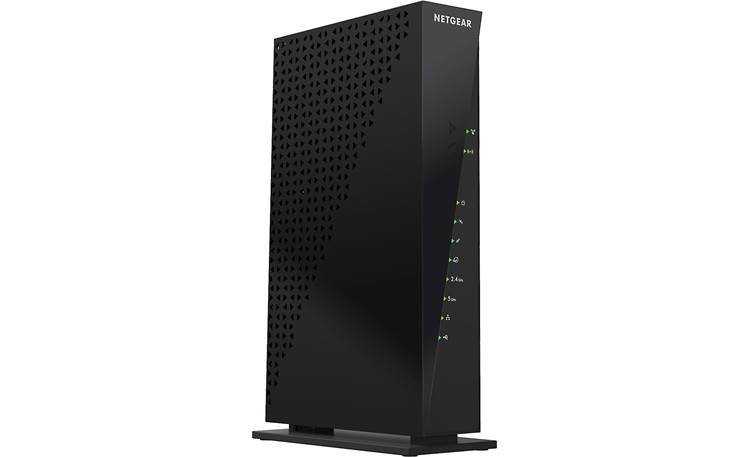 Features
WiFi Cable Modem Router: NETGEAR's AC1750 WiFi Cable Modem Router (C6300) combines a cable modem and WiFi router in one device, so you can connect to your cable internet service provider and other network devices in your home without having to connect a separate router or gateway. The NETGEAR AC1750 is certified by most major cable Internet providers in the US. The WiFi cable modem router saves you money over time by owning your cable equipment and avoiding monthly rental charges from your cable internet service provider.
US Cable Internet Service Provider Compatibility: The AC1750 WiFi Cable Modem Router is compatible with most major US cable internet service providers; like Comcast XFINITY, Time Warner Cable, Cox, Charter, Cablevision & more (up to Ultimate 300 plans). The cable modem supports the assignment of IPv4 and IPv6 addresses by cable Internet providers. Not compatible with Cable bundled voice services.
Notes:

You must contact your Internet service provider (ISP) and tell them that you are using the cable modem. Before you connect the cable modem and contact your cable Internet provider, collect your cable account number, account phone number, and login information (your email address or user name and password).
If Comcast XFINITY is your cable Internet provider, setup Internet service by using Comcast XFINITY self-activation process. If you are unable to self-activate your modem router, call Comcast XFINITY customer service.
CableLabs DOCSIS 3.0 Certified: The NETGEAR AC1750 WiFi Cable Modem Router is designed to meet DOCSIS 3.0 specifications and backward compatible with DOCSIS 2.0 networks. DOCSIS 3.0 is 16-times faster than 2.0 devices.
High Performance Intel Puma TM6 Processor: Its high performance 600MHz Intel Puma TM 6 processor supports 16 download & 4 upstream channels simultaneously for efficient and reliable Internet access. You get up to 680Mbps download and 132Mbps upload 4k streaming speed for streaming HD videos, faster downloads, and high-speed online gaming.
Dual Band WiFi (2.4GHZ/5GHz): The NETGEAR AC1750 WiFi Cable Modem Router supports WiFi connection speeds up to 450Mbps in the 2.4GHz band for 802.11n devices and up to 1300Mbps in the 5GHz band for 802.11ac devices. Both 2.4 GHz and 5 GHz bands can be active simultaneously. The modem router supports the following advanced WiFi features –
WiFi Multimedia (WMM): WMM QoS prioritizes WiFi data packets from different applications based on four access categories – voice, video, best effort, and background.
Protected Management Frames (PMF): Protected Management Frames (PMF) is a security feature that protects unicast and multicast management frames from being intercepted and changed for malicious purposes.
Wireless Multicast Forwarding (WMF): Wireless Multicast Forwarding (WMF) lets the modem router forward multicast frames to wireless LAN (WLAN) hosts, using unicast addresses. WMF provides robust wireless communication because unicast frames are acknowledged, retried, and dynamically rate-controlled.
Airtime Fairness (ATF): Airtime Fairness (ATF) ensures that all WiFi clients receive equal time on the network. Network resources are divided by time, so if five WiFi clients are connected to the network, they each get one-fifth of the network time. The advantage of this feature is that the slowest WiFi clients do not control network responsiveness.
802.11ac: The modem router supports the 802.11ac networking standard. This new standard offers better speed, improved reliability, and more range than older WiFi networking standards. The extender is also backward compatible with earlier WiFi a/b/g/n standards. However, to get the benefits of 802.11ac, your WiFi router must support the 802.11ac WiFi networking standard. In comparison, the latest 802.11ac WiFi standard is 3x faster than the older 802.11n WiFi standard. 
Beamforming: The modem router supports beamforming in the 5GHz band to enhance the WiFi range and performance for your a/n/ac WiFi devices. When you enable beamforming and connect to the WiFi network, the modem router actively tracks your device and directs WiFi to your device, rather than just blasting it out in all directions. Beamforming provides a better range and performance
NETGEAR Genie App: The NETGEAR Genie App makes getting the most out of your home network fun & easy. The Genie App lets you easily monitor, connect & control your home network from a Windows PC, Mac computer/laptop, Apple iOS device, or Android smartphone/tablet. With the NETGEAR Genie App you can share & stream music or videos, diagnose & repair network issues, set up parental controls & more.
Convenient Content Sharing: With NETGEAR, sharing across your network is built-in and simple, anything from accessing stored photos & music to wireless printing.
DLNA/UPnP: Find & play your media on DLNA/UPnP compatible TVs & game consoles.
ReadySHARE USB Access: Wirelessly access & share USB hard drives via the one USB 2.0 port.
ReadySHARE Printer: Wirelessly access & share a USB printer.
High Security: Maintain the highest security across your network to ensure your privacy & family is safe while online. Whether it's preventing phishing & spyware or just limiting access for kids & guests, NETGEAR has you covered.
Parental Controls: Keep your Internet browsing experience safe and secure with free parental controls. It allows you to limit access to certain web sites at certain times. For example no social networking or gaming site access after dinner time.
Guest Network Access: Separate & secure access for guests. Guest networks create a completely separate WiFi network for your guests' devices, ensuring they do not have access to your home network or to the shared USB hard drive with all your personal data.
Secure WiFi Connections: Secure WiFi connections offer the highest level of WPA/WPA2/WPA2-PSK security with Double firewall protection (SPI/NAT firewall) and Denial-of-Service (DoS) attack prevention.
Personal FTP Server: With your customized free URL, you can use FTP to access your network when you aren't home through Dynamic DNS.
Wired Connections: The modem router provides one coaxial cable connector, four 10/100/1000 LAN Gigabit Ethernet ports, and one USB 2.0 port.
Coax Connector: The modem router's coax connector plugs into your cable internet service provider's coax cable.
Four Ethernet Ports: The four RJ-45 Ethernet ports (10/100/1000) with auto-sensing technology let you make a wired connection to local LAN devices, like your computer, game system, smart TV, and Blu-ray player.
USB Port: The one USB-A 2.0 port lets you connect a USB hard drive, flash drive, or printer to the modem router. USB storage devices must be formatted in FAT16/32, NTFS, or Ext2/3/4. If you attach a USB storage device to the modem router, you can access the storage device from your local network or outside your local network via the internet.
Browser-Based Installation: Browser-based installation makes setup easy using an Apple iOS iPod/iPhone/iPad, Android smartphone/tablet, Windows PC, or Mac computer/laptop.
Computer Requirements: The NETGEAR AC1750 is compatible with Windows PC (8/7/Vista/XP/2000) and Mac computers (OS X). It also supports Microsoft Internet Explorer 5.0, Firefox 2.0, Safari 1.4, or Google Chrome 11.0 browsers or higher.